Event
EPUAP 2019
It has been great meeting you at the 21st Annual Meeting of the European Pressure Ulcer Advisory Panel (EPUAP) in Lyon,France, 18-20 September.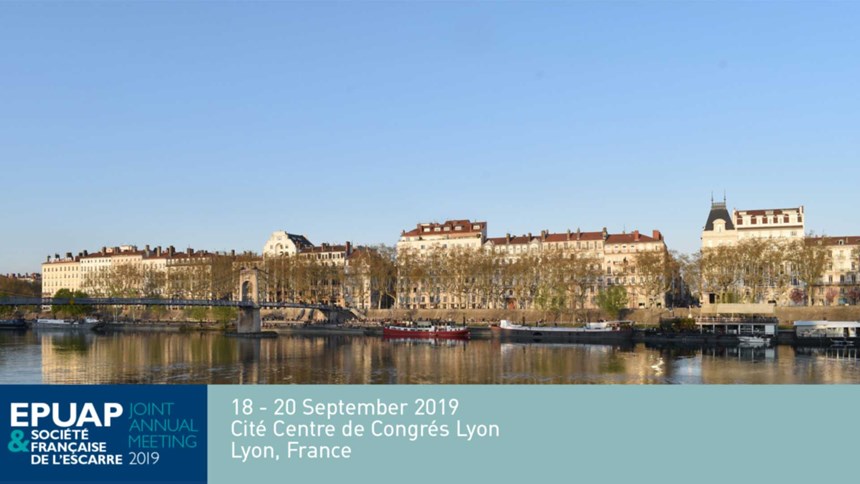 This year's conference theme was: Pressure ulcer prevention without frontiers. The programme addressed innovations in pressure ulcer prevention and treatment, multidisciplinary approach in pressure ulcer prevention and treatment, Patient safety and advocacy for pressure ulcer prevention, and much more.
As a proud EPUAP partner, we saw the sharing of knowledge as one of our most effective means of reducing unnecessary patient suffering.
19 September 2019
10:45 - 12:15
Reducing the burden of pressure ulcers - Consolidating technology, research and evidence-based practice to enhance clinical and economic outcomes in pressure ulcer management
Chairperson: Nathalie Salles, MD PhD, Head of Geriatrics Department, Central University Hospital, Bordeaux, France
Franck Hentz, RN, Senior Health Executive, Central University Hospital, Clermont-Ferrand, France
Nick Santamaria, RN, PhD, Professor of Nursing Research, Translational Research, University of Melbourne and Royal Melbourne Hospital, Australia;
Amit Gefen, PhD MSc BSc , Professor in Biomedical Engineering, Tel Aviv University, Israel;
Paulo Alves, PhD RN MSc, Assistant Professor of Nursing and Tissue Viability, Catholic University of Portugal, Porto, Portugal
For regular updates, follow us on our social media channels - Facebook, Linkedin, Instagram, and Twitter Would you like to talk to someone about our solutions, therapy areas or just catch up?
To read more about EPUAP 2019 and view the full programme.
hidden1
hidden2
Our knowledge
Related articles
Read more about Pressure Ulcer Prevention and Treatment or Learn more from leading wound care experts through our on-demand webinars.
More insight