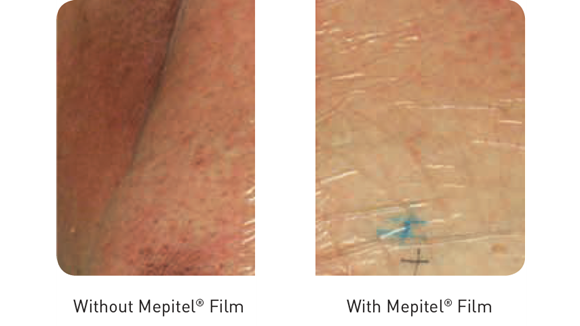 TREATMENT
We believe Mepilex® Lite is the solution for treating radiotherapy skin reactions
Believe the evidence
Mepilex® Lite is 41% more effective at reducing radiotherapy skin reaction severity when compared to aqueous cream1
A randomized controlled clinical trial published in 2012 has shown that:
Mepilex® Lite reduces the severity of radiation by 41% when compared with aqueous creams

2

.
80% of the patients participating in the study said they preferred the Mepilex® Lite dressings over the cream.
Benefits you can believe in
Mepilex® Lite is a thin and gentle absorbent foam dressing with Safetac®, which is used in the critical period 2-4 weeks after radiotherapy treatment has stopped. It protects fragile skin from the daily friction of clothes and moisture, allowing it to heal undisturbed and recover from treatment.
Superior comfort
Mepilex® Lite is thin, soft and conforms well to body contours, such as breasts, and is very comfortable to wear.
Skin-friendly Safetac®
Our patented technology gently adheres to the skin, but doesn't cause trauma to moist wounds and surrounding areas, minimizing pain and stress when the dressing is removed.
Optimal exudate management
Can absorb low levels of exudate while maintaining a moist healing environment.
Ease of use
Mepilex® Lite is easy to handle, and can be cut to ensure a perfect fit for irregular shaped areas.
Proven efficacy for treatment of radiotherapy-induced skin reactions.
Mepilex® Lite is a thin, highly comformable dressing with Safetac® technology. It is very easy to work with and ideal for hard-to-dress areas. Mepilex® Lite is clinically proven to reduce the severity of radiation-induced skin reactions

2

.