Multipurpose all-in-one foam dressing
Mepilex Border Flex
All-in-one dressing that stays on and uniquely conforms
-/-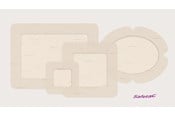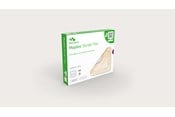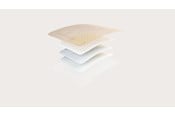 Mepilex® Border Flex with proprietary Flex Technology is an all-in-one wound dressing with improved conformability and stays in place - even in motion! It manages exudate containing bacteria, trapping it in a more effective way. It is designed to treat a wide range of exuding chronic and acute wounds such as diabetic foot ulcers, venous leg ulcers, pressure ulcers, skin tears, and traumatic wounds.
Proprietary Flex Technology enables 360-degree stretch, thanks to patent-pending Y-cuts in its retention and spreading layers. It conforms to the body – even difficult-to-dress locations – and stays where needed for longer, compared to other dressings .
With over 40% more superabsorbent fibres than Mepilex® Border, the retention layer manages both normal and viscous exudate while locking fluid away so the dressing can continue to work . Fluid handling capacity tests prove that Mepilex Border Flex outperforms other all-in-one dressings by as much as 125% .
The highly breathable backing film features the new Exudate Progress Monitor – a dot pattern that allows you to easily track and record fluid as it spreads, without disturbing the wound . These dot counts can be recorded and shared between nurse visits or shifts, potentially avoiding excess dressing changes.
All combined, the five-layer construction is designed to absorb, channel, and trap exudate containing bacteria away from the wound bed and prevent re-entry, even under compression .
Proprietary Flex Technology for improved stay-on-ability and conformability
Improved exudate management with bacteria trapping properties
Safetac wound contact layer for less pain during dressing changes
Easy three-part application for more accurate placement and reduced waste
Track and record exudate progress for better dressing-use efficiency
Stays in place better than other foam dressings – up to 7 days*
* on knees and elbows compared to other square dressings
Sloughy wound
Medium to high exudation
Viscous exudate
Painful wound
Superficial wound
Foot ulcer
Leg ulcer
Traumatic wound
Pressure ulcer
Skin tear
Bordered foam dressings
Absorbent dressings
Mepilex
hidden1
hidden2
Further product information
When to use Mepilex Border Flex
You can use Mepilex Border Flex for a wide range of exuding wounds such as pressure ulcers, leg and foot ulcers, and traumatic wounds such as skin tears and surgical wounds. Plus it can be used on dry and or necrotic wounds in combination with gels.
See how Mepilex Border Flex works
hidden1
hidden2
How to use Mepilex Border Flex
Watch how to apply Mepilex Border Flex to your patients.
hidden1
hidden2
Product Store
Would you like to buy online Mepilex Border Flex?
Product details
| | | |
| --- | --- | --- |
| Code | Size cm | Pcs/box |
| 595211 | 7.5x7.5 | 10 |
| 595311 | 10x10 | 10 |
| 595011 | 12.5x12.5 | 10 |
| 595411 | 15x15 | 10 |
| 595611 | 15x20 | 10 |
| 595800 | 10x20 | 10 |
| 595900 | 10x30 | 10 |