Fluidized patient positioning solution
Mölnlycke Z-Flo Fluidized Positioners
Easily-customizable fluidized pressure redistribution devices to assist in positioning and repositioning patients
-/-
Mölnlycke Z-flo positioner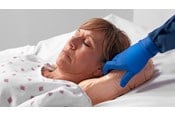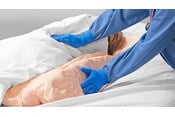 Patient positioning and, more importantly, repositioning is recommended as part of a successful pressure ulcer prevention protocol. Mölnlycke® Z-Flo™ Fluidized Positioners offer the ability to uniquely conform to and support the patient's body in a comfortable position until time to reposition again.
Z-Flo Fluidized Positioners are used to redistribute force over a greater surface area or to help offload bony prominences while maintaining neutral body alignment. Unlike beanbag positioners and pillows, these unique fluidized positioners are not subject to the effect of gravity or memory. Once molded to meet the anatomic needs of an individual patient, they will hold that shape until remolded, and are available in a range of sizes.
Z-Flo positioners can be used to help protect the occiput by providing pressure redistribution while maintaining proper head and neck alignment. You can also easily mold space to protect the ears or to create channels for medical devices. Other areas of use include the shoulders, back, hips, knees and ankles to support a side-lying position. Rather than use pillows or other make-shift offloading tools, you can use Z-Flo positioners to float or offload heels for a patient in the supine position.
Benefits of Mölnlycke® Z-Flo™ Fluidized Positioners
Won't flatten or heat up like rolled towels and blankets
Doesn't shift, lose shape or retain moisture like foam rings and wedges
Are not subject to the effect of gravity, unlike beanbag positioners and other tools
Conforms to and supports the patient's body in a comfortable, therapeutic position until next reposition
Molds to individual patient and anatomic shapes
Redistributes force over a greater surface area or helps offload bony prominences
Suitable for use in adult and pediatric populations
For single patient use only but can travel with patient across care continuum
Not made from natural rubber latex or DEHP
hidden1
hidden2
Further product information
How to use Mölnlycke Z-Flo Fluidised positioner
Product details
Code
Size cm
Pcs/box
Pcs/case
Z-Flo™ Fluidized Positioners
1401001
Z1 Utility positioner - Small
28 x 56 cm | 11 x 22 in.
1
1401002
Z1 Utility positioner - Small with disposable cover
28 x 56 cm | 11 x 22 in.
1
1401003
Z2 Utility positioner - Medium
40.5 x 76 cm | 16 x 30 in.
1
1401004
Z2 Utility positioner - Medium with disposable cover
40.5 x 76 cm | 16 x 30 in.
1
1401005
Z3 Utility Positioner - Large
63.5 x 91.5 cm | 25" x 36 in.
1
1401007
Z4 Ancillary Positioner
30.50x 51 cm | 12" x 20"
8
1401008

Z4 Ancillary Positioner

- with thermal regulating cover

30.50x 51 cm |

12" x 20"
8
Pediatric Positioners
1400200

Large Utility Positioner with cover

30.50x 51 cm | 120 x 20 in.
6
1400204

Large Utility Positioner with disposable cover

30.50x 51 cm | 120 x 20 in.
6
1400206

Medium Full Body Positioner with cover

40.5 x 70 cm | 16 x 24 in.
6
1400213

Full Body Positioner with cover

51 x 76 cm | 20 x 30 in.
4
1400222

Small Tube Positioner with disposable cover

76 x 16.5 cm | 30 x 6.5 in
6
1400224

Large Tube Positioner with cover

152.5 x 16.5 cm | 60 x 6.5 in.
6
1400227

Small Utility Positioner with cover

17.5 x 25.5 cm | 7 x 10 in.
12
1400230

Small Utility Positioner with disposable cover

17.5 x 25.5 cm | 7 x 10 in.
12
1400233

Small Utility Positioner with cover

17.5 x 17.5 cm | 7 x 7 in.
18
1400239

Medium Utility Positioner with cover

23 x 38 cm | 9 x 15 in.
6